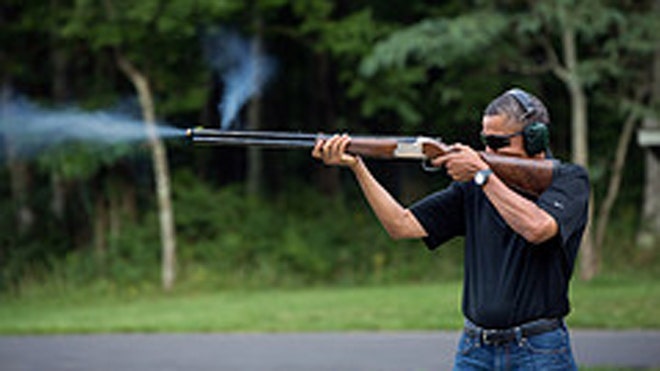 The official photo apparently depicts Obama – wearing protective glasses and earmuffs -- firing the rifle Aug. 4, 2012. It was released Friday on the White House's Flickr account.
I guess thats it. We can all breathe easier. Obama is on our side. He must be pretty good to shoot clay pigeons with a rifle, especially a big bore like that one appears to be. Takes a serious gun nut to take that kind of punishing recoil to develop his skills.
I think it is great that he is such a
great second amendment supporter.
Update
: Some were suggesting it is fake. I don't think so. The only reason to fake it would be if he was afraid to actually shoot it. It looks like a over/under shotgun with ported barrels. It is what any classy liberal would use to try to impress the bitter clingers. John Kerry would go hunting geese with it. [Hillary would use a rifle for waterfowl].
If the president enjoys shooting the shotgun, he ought to run a few thirty rounders through an AR. It's a blast.
Update Part Two:
Well
they did ask for it.